3D MAXpider Floor Mats
If you are looking for a set of all-weather floor liners that will look right in your vehicle, perfectly align with the contours of your floor area and last for years, check out all-weather kagu floor liners by 3D MAXpider. These floor liners feature an innovative 3-layer structure for the comfy daily ride. Kagu floor liners by 3D MAXpider are soft and are made of patented foam material that will last for years to come. Besides, 3D MAXpider custom-fit all-weather floor mats are designed to look right in a classy sedan, sports car or a heavy-duty truck.

The carbon fiber pattern of the top layer looks stylish and not too commercial, unlike
Husky
,
WeatherTech
and other floor liners, that feature those water channeling lines. If you are looking for a classy yet sporty all-weather floor mat set, consider 3D MAXpider Kagu floor liners.
Innovative Bottom Layer
Kagu floor liners feature patented bottom layer that prevents the floor liners from sliding and keeps them in place without damaging the original carpet. The mat is held in place, but the original carpet is not damaged like if the mat had velcro backing. 3D mats do not leave scuff marks like some traditional mats with nibs do.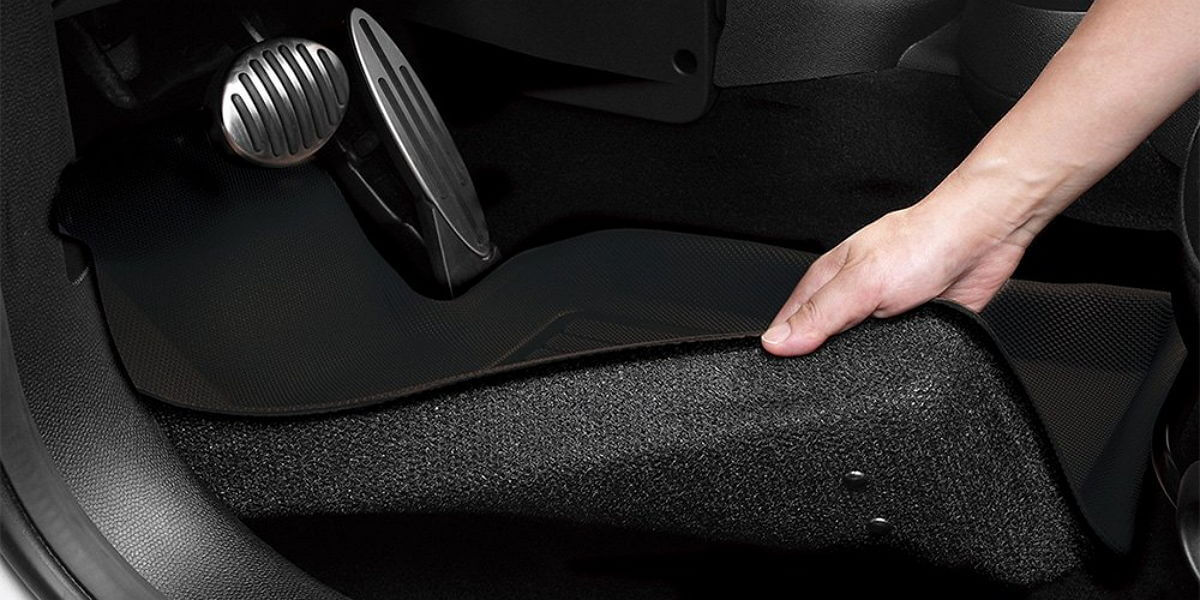 So, by selecting 3D MAXpider floor liners for your car, truck, or SUV you are getting your floor area protected from spills, dirt, slush, and dust, and also you protect your factory carpeting from the unwanted impact.
Floor Mats for Honda Accord

3D digital design;

Raised edges;

Waterproof.

Floor Mats for Toyota RAV4

Protects from spills;

Easy to clean;

Completely odorless.

Floor Mats for Tesla Model 3

Ensure maximum coverage;

Non-skid backing;

Shock and sound absorbent.

Floor Mats for Mazda CX-5

All-weather protection;

Perfect fit;

Multi-layer construction.

All-weather protection;

OEM fit;

No smells.
Non-Skid Top Layer
The top layer of all-weather 3D MAXpider floor liners is made of thermoplastic rubber and features stylish and somewhat sporty carbon fiber texture. This design complements the interior of your vehicle in the style you need. Note, that 3D MAXpider kagu floor liners won't slide and are completely safe to use. Besides, 3-dimensional design of the floor liners is guaranteed to perfectly align with the edges of the floor area of your vehicle.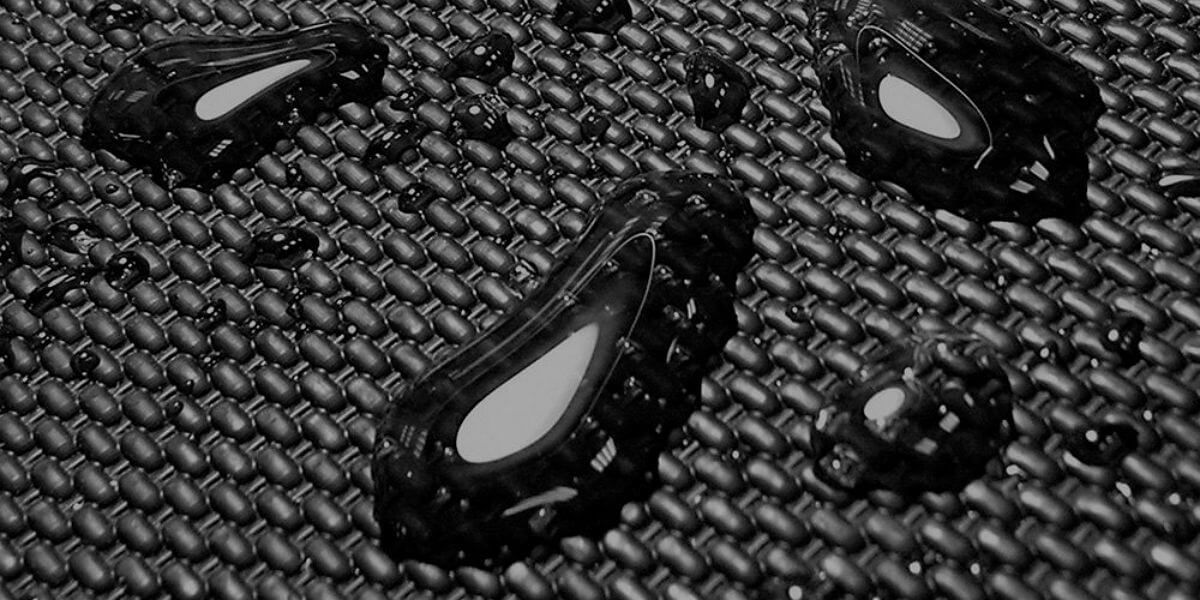 Measured with precise CAD laser equipment, all-weather floor mats by 3D MAXpider provide maximum coverage and protect the interior against spills and dirt. Raised edges of the 3D mats keep dirt, water, and dust inside and won't allow damaging the floor area.
Patented Middle Layer
The main part of the 3D MAXpider floor liners is made of semi-hard XPE foaming. It minimizes fatigue of the driver's feet, as it feels firm yet soft at once. Besides, it is a kind of sound barrier, so you are getting a quieter ride. Such a structure of the floor liners makes 3D MAXpider Kagu line a truly unique product on the market.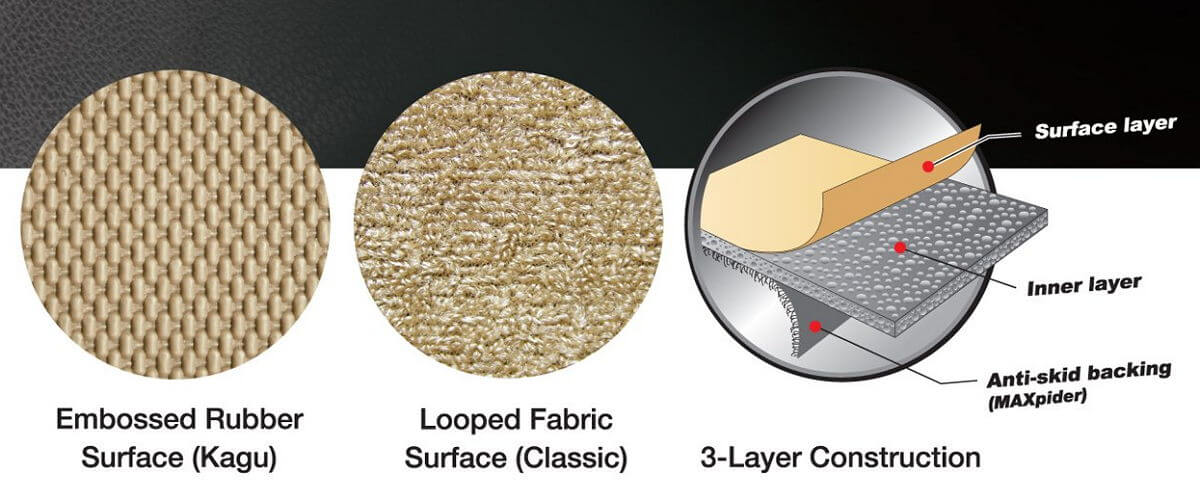 3D MAXpider guarantees, that their floor liners are made of odorless and non-toxic materials that do not fall under the Prop 65.
All-Weather floor liners from 3D MAXpider
There are several ways one can order 3D floor liners for their car, truck or SUV. Maxpider offers 3 main forms of packaging for the floor liners:
Complete Set
Front Row
Second Row
And here is a tip. If you cannot find the mats you need separately (only the 1st or only the 2nd row), chances are high, that you may find a complete set available. Not all Kagu floor liners can be ordered separately (just the 1st or just the 2nd row). For example, Kagu floor liners for Tesla Model 3 are currently available only as a complete set (1st and 2nd row), and you cannot order just the front row. Most likely, they do this to help their customers save on shipping of the 2nd floor liner package. Though, with the 3D MAXpider all-weather floor liners you will not save a lot if you buy 2 rows in a set.
3D MAXpider also offers a lineup of trunk liners for complete protection of your vehicle. There are custom-fit foldable and semi-custom cargo liners. Universal cargo liners require cutting to make them work right in your vehicle. Custom-fit foldable cargo liners are designed for a specific year, make and model, so perfectly fit the cargo area without any modifications required. 3D MAXpider also offers frunk liners for the electric vehicles, such as electric Porsche and Tesla Model 3, Model S and Model X. At the moment, frunk liners for the electric vehicles are available only in black color, though we strongly believe, that grey and tan colors are also coming.
Just like the other manufacturers of all-weather floor liners, 3D MAXpider does not offer just the driver's side or just the passenger's side mat separately. So if your driver's side mat gets worn with time, just like every other rubber floor mat, you will need to purchase the 1st row mats and replace both.
3 Colors to Fit Your Style
All-weather and Classic floor liners by 3D MAXpider are available in 3 main colors to match the interior and style of your vehicle:
Though, floor liners for certain vehicle applications may be unavailable in specific colors, so you need to check the inventory to make sure the color you need is available for your vehicle application.
What makes 3D MAXpider floor mats so special?
Style. Kagu floor liners is the all-weather line of 3D MAXpider floor mats. Unlike many other all-weather mats, Kagu liners do not look too commercial, as they do not have those heavy weights, water-channeling lines or deep heavy-duty pattern. Kagu floor liners look classy and even somewhat sporty due to that carbon fiber pattern of the top layer. So, they look right in the classy sedan, a daily driver and a sports car.
Warranty. All 3D MAXpider floor liners are backed up with the official 3-year limited warranty. If you feel, that a warranty case has occurred, just contact the shop or seller you have purchased the mats from. They will instruct you on the further steps. Just make sure you are purchasing 3D MAXpider products from the authorized dealers. Overall, the 3D MAXpider all-weather floor liners are guaranteed to be free from defects in materials and workmanship, and the defective product can be replaced under the warranty within 3 years after the date of purchase. Note, that normal wear is not a defect.
Digitized 3-dimensional design. The manufacturer uses innovative laser measuring equipment to produce the mats, that are perfectly contoured for the specific vehicle application. This way, custom-fit all-weather floor liners are guaranteed to catch spills and trapping mess.
Unique 3-layer structure. All Kagu floor liners feature that unique patented 3-layer structure, that make these mats look and feel different from the competitors. The bottom anti-skid layer keeps the mat in place. The middle layer is made of XPE foamy plastic that feels soft and keeps the driver's feet relaxed during the drive. The top layer is thermoplastic rubber (for Kagu liners) or polyester looped fabric (for Classic floor liners).
Safety. 3D MAXpider products are safe to use, as the materials are completely odorless. Besides, the components the mats are made of do not fall under the prop 65. So, by buying 3D MAXpider all-weather floor mats for your vehicle, you are getting ultimate protection without compromising your safety.
Why 3D MAXpider floor liners are great?
Here are 10 good reasons to select 3D MAXpider floor liners for your car, truck or SUV.
You are getting ultimate protection against spills, dirt, slush and more. These floor liners are waterproof. It means, that moisture and dirt will stay inside. Later on, you can easily hose the mats off to clean them.
3D MAXpider Kagu series mats are stylish. The carbon fiber pattern will complement any interior style.
Odorless and non-toxic. Floor liners by 3D MAXpider are completely odorless and materials the manufacturer uses are non-toxic and completely safe. The XPE foam features cushioning effect and makes Kagu anti-fatigue mats.
Raised edge design. 3D MAXpider floor liners feature raised edges that perfectly align with the floor area contours. They provide excellent coverage and maximize protection of your factory carpeting, as they do not leave gaps for spills and dirt.
Easy installation. You do not need any special tools or technical skills to install 3D MAXpider floor liners. Just remove your original floor liners and get the ones by 3D MAXpider installed. Note, that any aftermarket floor liners require removal of the original floor liners. Otherwise, 3D MAXpider mats will not stay in place and can get under the pedals.
Protection against spills and dirt. If you want to make sure your floor liners catch all debris, moisture and spills, go with custom-fit all-weather Kagu floor liners. So, all spills are kept inside of the mats due to the raised edges, so you can easily clean your mats.
All-weather protection. If you want your interior to be clean regardless of the weather outside, check out 3D MAXpider all-weather floor mats for your car, truck or SUV. Raised lips of these floor liners will keep slush, dirt, dust and melted snow on the mats. This means ultimate protection of your original carpet.
Easy cleaning. 3D liners are easy to clean with water. Just hose off the dirt, let your mats dry outside and you are good to go! You do not need any extra chemicals to keep your Kagu floor liners in the top shape.
Soft and durable. 3D MAXpider uses their own patented 3-layer technology. So, you are getting the mat, that will not damage your factory carpeting and will stay in place. Retention devices on the mat will perfectly align with those your vehicle is equipped with. Middle layer is XPE foam, that works as anti-fatigue mat for the driver. The mats are soft yet durable, so you will enjoy them for years to come.
Stylish interior. Now you do not have to select between all-weather protection and stylish design, as Kagu floor liners by 3D MAXpider will look right in any vehicle without making the interior too commercial. Enjoy style and ultimate protection with 3D MAXpider!
How to install 3D MAXpider floor liners
Overall, installation of 3D MAXpider floor liners does not require any extra skills, technical knowledge or tools. Just follow this quick step-by-step installation guide and enjoy a quality product!
Remove any floor mats or liners you currently have in your vehicle. Note, that it is a safety hazard to use 2 or more floor mats at once, as the top floor liner can get under the pedal and cause an accident.
Vacuum the factory carpeting to remove any dirt and particles. Identify the proper location for all mats. Note, that every mat perfectly aligns with the contours of the floor area it fits.
If you have factory retention devices on the floor, anchor your new 3D MAXpider floor liners using them. Make sure that the mats are held in place to avoid any sliding.
Make sure the engine is off and the shifter is on P (Parking). Then, fully depress each pedal to make sure the mats do not interfere with the pedals. Please do not skip this step, as it is crucial to verify fitment to avoid any accidents.
Who makes 3D MAXpider floor liners?
3D MAXpider is a well-known manufacturer of custom fit rubber auto floor mats, car accessories and sun shades. However, 3D MAXpider fitted floor mats are the most popular product by the brand. 3D MAXpider has been on the market for over 25 years and they do not offer too many products, because they focus on quality rather than quantity. Each product is crafted to perfectly fit the vehicle it is listed for.
While developing the perfect floor mat structure, 3D MAXpider has obtained several patents. This way, they stress, that they have invented the car floor liners noone has developed before. 3D MAXpider is headquartered in Fontana, California. That's where they have their manufacturing facility and main office. Their floor mats are available for purchase through the dealers and on major marketplaces (ebay, Amazon, etc.).

The Best Protection You Can Get
We are sorry that this info was not useful for you!
Let us improve this info!
Tell us how we can improve this info?