Review & Comparison
3D Maxpider mats are available in 2 main design options:
3D MAXpider® – Kagu Floor Liners
3D MAXpider® – Classic Floor Liners
3D MAXpider® – Kagu Floor Liners
3D MAXpider Kagu Floor Liners are quality custom-fit all-weather mats. They are completely waterproof and provide excellent protection to the factory carpeting. These mats feature corporate patented anti-skid backing, which prevents from sliding. The upper layer of the Kagu floor liners is made of non-toxic thermoplastic, and features carbon fiber pattern.



The middle layer of these floor mats is made of corporate innovational material,  XPE foam. It is not only pleasant to step on, but it also allows feet to rest during the drive. Besides, it reduces noise and vibration. These floor liners do not look heavy-duty or too rugged, and will look right not only in trucks and SUVs, but also in classic sedans and sport cars.
3D MAXpider® – Classic Floor Liners
3D MAXpider Classic Floor Liners are an ultimate solution for those, who've been always looking for a compromise between classic carpet look and excellent protection. These mats feature molded foam base in the middle. It minimizes noise and vibration and makes mats pleasant to step on due to its foamy formula. The top of these mats is made of looped fabric which is soft, durable and is easy to clean.



The very bottom of these mats is that famous corporate anti-skid material, that was invented and patented by 3D MAXpider. Classic Floor liners by 3D MAXpider feature raised edges, which keep moisture, dirt and debris inside and won't allow it to get on the factory carpeting.
3D MAXpider Mats: Warranty
All floor mats by 3D MAXpider are covered with limited 3-year warranty, which means they are warrantied against any kind of defects in workmanship or materials. 3D MAXpider is a reasonable manufacturer and understands, that some things may go wrong during the manufacturing, and they are ready to cover this. However, any products wears with time, and this is not something a floor mat set can be warrantied against.
So, 3D MAXpider warranty, does not cover certain things:
normal wear caused by operation;
damages occurred due to improper usage/installation;
abuse/modification;
damages occurred due to non-operation.
3D MAXpider Mats: Comparison
With so many quality floor mats on the market, it is always a good idea to compare the products based on the main specs in order to determine, which floor mat set will be the best fit for your vehicle and your specific needs. That's why we have compiled a fair and clear comparison of 3D MAXpider Mats with the floor mats and liners by the other well-known manufacturers. You are welcome to check out the comparison sheets and see the differences between the most popular floor protection products on the U.S. market!
3D MAXpider Mat vs WeatherTech
3D MAXpider Mat vs Husky Liners
Aries Styleguard vs 3D MAXpider
Lloyd Rubbertite vs 3D MAXpider
Keep browsing  3D MAXpider website for more information on 3D custom fit floor mats.
Proposition 65: Car Mats
We drive our cars, trucks and SUVs on daily basis and spend tremendous amount of time in them. We breathe the air that contains tiny particles of everything we've got inside, from air fresheners to plastic parts and floor mats. Floor mats or floor liners are big enough to occupy almost all floor area, that's why we hate floor mats that have that strong rubber, plastic or chemical odour. Yet, floor mats that are made of cheaper and toxic materials are not just irritating, but may cause serious harm to the health of the driver and passengers. Proposition 65 requires to provide information on whether the products are toxic and contain those dangerous components that are known to cause cancer, birth defects and certain other serious health problems. 3D MAXpider mats are completely safe to use, as they do not contain those dangerous chemicals that fall under the Prop 65.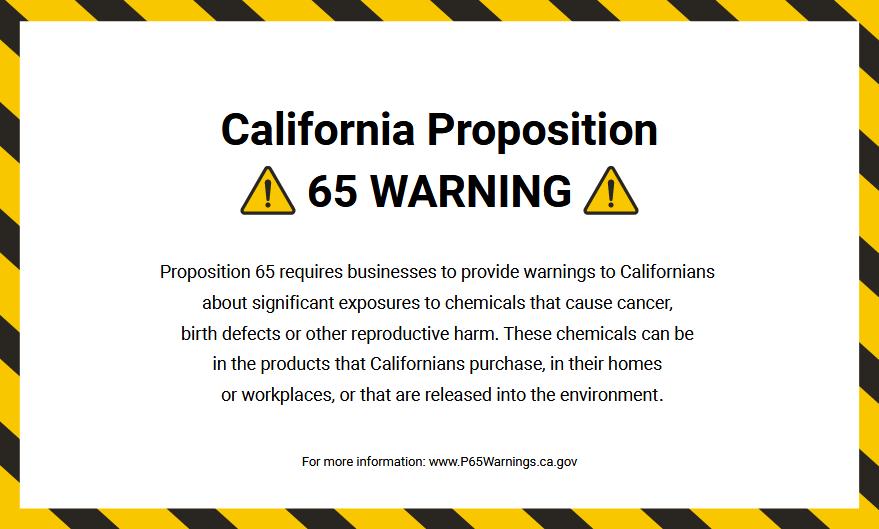 Proposition 65 requires businesses to provide warnings to Californians about significant exposures to chemicals that cause cancer, birth defects or other reproductive harm. These chemicals can be in the products that Californians purchase, in their homes or workplaces, or that are released into the environment. By requiring that this information be provided, Proposition 65 enables Californians to make informed decisions about their exposures to these chemicals. Source: https://www.p65warnings.ca.gov/
Prop 65: Car Floor Mats & Liners
We agree, that buyers have to be informed on what they buy and whether the products they buy are safe for their health. This helps the customers to make informed decisions. 3D MAXpider mats are completely safe, and none of the components used in the production of these mats falls under the prop 65 restrictions. Below the chart that shows whether the major floor mat brands' materials comply with this proposition.
| # | Brand | Proposition 65 Warning |
| --- | --- | --- |
| 1 | 3D Maxpider | no |
| 2 | WeatherTech | no |
| 3 | Husky Liners | yes |
| 4 | Michelin | yes |
| 5 | Lloyd Mats | no |
| 6 | Lund Mats | no |
| 7 | Rugged Ridge | yes |
| 8 | Aries Liners | no |
| 9 | Bestop | no |
| 10 | Outland Automotive | yes |
Questions & Answers
Question: Does the 3D Maxpider have a proposition 65 reasons:titanium dioxide, other chemicals warning?
Answer: No, 3D MAXpider floor mats do not contain any dangerous chemicals that are known to cause cancer and fall under Proposition 65.
3D Maxpider Mats Reviews
Mats
Average rating:
2 reviews
Mar 14, 2019
I just got the Maxpider mats for my 2019 Honda CRV. These mats are AMAZING. They fit like a glove in the driver's and passenger's floor wells as well as the single piece that covers the entire floor in the rear seating area. The bottom side of the mats are not sticky at all. Instead, its an almost prickly material that appears to provide a favorable, non-slip surface against the car's carpeting but these fit so well and snug, I can't imagine them ever slipping out of place. Time will tell how these hold up to the tough and snowy, Illinois winters but my guess is that these are going to do fine. Maxpider mats have a cool looking, embossed finish too. I've seen other custom fit mats in action but those have a commercial type finish that are more inline with work vehicle's interior. These have a look and feel worthy of a nice to luxury passenger vehicle. I could go on and on but suffice it to say, I LOVE these mats and will be strongly recommending them to anyone that will listen!
Mar 19, 2018
The main thing I like about 3D maxpider mats compared to weathertech is that they are softer yet do not seem to wear a lot.