Trunk Liners for Tesla Model 3
3D MAXpider offers quality floor liners for the Tesla Model 3. Many owners of this brand-new electric vehicle have ordered a front and rear set, and are completely satisfied with the way these liners fit their Model 3. Moreover, floor liners by 3D MAXpider have been nominated the #1 must-have accessory by InsideEVs and certain other enthusiast EV communities.
Up to the end of November 2018, 3D MAXpider hasn't offered a custom-fit floor area solution for Tesla Model 3. However, in November 3D MAXpider cargo liner for the Model 3 was developed and released. The new cargo liner features the same design as the popular Kagu floor liners and will use the same retention system to keep it in place.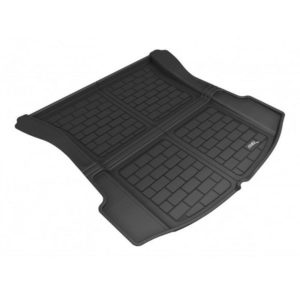 Key Features of the 3D MAXpider Cargo Liner for Tesla Model 3
Shape: Tesla Model 3 cargo liner features raised edges to keep spills and dirt inside and prevent from potential damage to factory carpeting.
Design: floor liners 3D MAXpider offers for the Tesla Model 3 feature the same carbon fiber pattern as Kagu floor liners, so they will match in color and looks.
Security: 3D MAXpider employs their patented anti-skid technology that prevents a trunk liner from sliding around and keeps it in place.
Durability: 3D MAXpider trunk liners are backed up with limited 3-year warranty.
Fitment: Tesla 3 cargo liners are designed to specifically fit the contours of the floor area and ensure 100% coverage of the area.
We are sorry that this info was not useful for you!
Let us improve this info!
Tell us how we can improve this info?