Colors & Material
3D MAXpider classic floor liners were developed as an ultimate product, that combines features of a traditional weather mats for cars and classic carpet floor mats. As a result, class carpet MAXpider 3d mats are firm, waterproof and have got raised lips to keep dirt, moisture and particles inside. On the other hand, they do not look that commercial or rugged, as the top layer is carpet.
That's the reason why these mats quickly grabbed attention of the drivers, as with 3D MAXpider floor mats one does not have to select looks or protection. 3D MAXpider floor mats allow having both!
3D MAXpider Classic mats: Material
3D MAXpider classic floor liners can be hardly referred to as regular floor mats, because they are not just plain carpet mats. Even though they look and feel carpet in the vehicle, 3D MAXpider mats work feature those raised lips and waterproof inner layer that makes it fair for the manufacturer to call them floor liners. The backing of the mats is patented 3D MAXpider anti-slip material that somewhat resembles velcro. It securely attaches to the factory carpeting without damaging it or leaving scuff marks. But most importantly, MAXpider 3D Classic floor mats are guaranteed to stay in place and not to slide under the pedals, which means not only convenient, but also secure drive.
Color selection of 3D MAXpider Classic mats
3D MAXpider mats are available in limited amount of colors, yet even with only 3 color options they are available in, the mats will look right in the modern car or truck. So, here are the colors 3D MAXpider Classic carpet floor mats are available in:
Black;
Beige (tan);
Gray.
Regardless of the color option you select, you are guaranteed to get a molded carpet floor mat set that will perfectly fit the shape of the vehicle's floor and will not wear out quickly, due to the rubber heel pad installed on the driver's side mat. The upper layer of the 3D Classic mats is completely carpet. Yet, this carpeting won't allow sand and dust particles penetrate into it. That's why 3D MAXpider custom fit floor carpet is easy to clean.
Proposition 65: Car Mats
We drive our cars, trucks and SUVs on daily basis and spend tremendous amount of time in them. We breathe the air that contains tiny particles of everything we've got inside, from air fresheners to plastic parts and floor mats. Floor mats or floor liners are big enough to occupy almost all floor area, that's why we hate floor mats that have that strong rubber, plastic or chemical odour. Yet, floor mats that are made of cheaper and toxic materials are not just irritating, but may cause serious harm to the health of the driver and passengers. Proposition 65 requires to provide information on whether the products are toxic and contain those dangerous components that are known to cause cancer, birth defects and certain other serious health problems. 3D MAXpider mats are completely safe to use, as they do not contain those dangerous chemicals that fall under the Prop 65.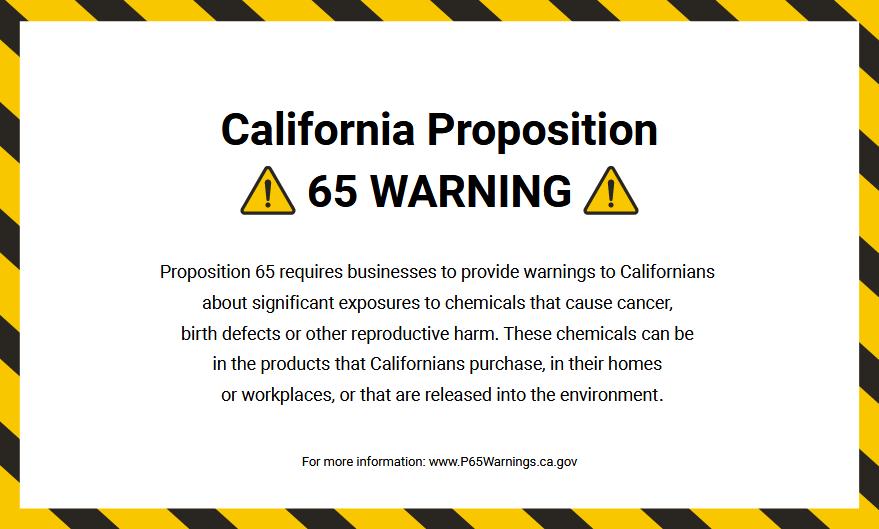 Proposition 65 requires businesses to provide warnings to Californians about significant exposures to chemicals that cause cancer, birth defects or other reproductive harm. These chemicals can be in the products that Californians purchase, in their homes or workplaces, or that are released into the environment. By requiring that this information be provided, Proposition 65 enables Californians to make informed decisions about their exposures to these chemicals. Source: https://www.p65warnings.ca.gov/
Prop 65: Car Floor Mats & Liners
We agree, that buyers have to be informed on what they buy and whether the products they buy are safe for their health. This helps the customers to make informed decisions. 3D MAXpider mats are completely safe, and none of the components used in the production of these mats falls under the prop 65 restrictions. Below the chart that shows whether the major floor mat brands' materials comply with this proposition.
| # | Brand | Proposition 65 Warning |
| --- | --- | --- |
| 1 | 3D Maxpider | no |
| 2 | WeatherTech | no |
| 3 | Husky Liners | yes |
| 4 | Michelin | yes |
| 5 | Lloyd Mats | no |
| 6 | Lund Mats | no |
| 7 | Rugged Ridge | yes |
| 8 | Aries Liners | no |
| 9 | Bestop | no |
| 10 | Outland Automotive | yes |
Check out 3D Liners website for more information on
3D Classic floor mats
.
We are sorry that this info was not useful for you!
Let us improve this info!
Tell us how we can improve this info?