Floor Liners for Toyota Tacoma
If you are looking for ultimate floor area protection for your Toyota Tacoma and you do not want your floor mats to be too heavy-duty or commercial, you are welcome to consider 3D MAXpider floor liners. Precisely designed based on the laser measurements, these floor liners perfectly fit the floor area, and raised edges will not allow moisture, slush, melted snow or spilled drinks get and damage the factory flooring of your Toyota Tacoma.
3D Maxpider floor liners look classy and are available in 3 colors: gray, black and tan to match the interior of your Toyota Tacoma. We understand, that there are so many floor liner options for your truck, that's why we offer 2 solutions that will look completely different from the liners offered by the competitors:
3D MAXpider Kagu floor mats for the Toyota Tacoma
3D MAXpider Classic floor liners for the Toyota Tacoma
If you are looking for the floor protection solution that is easy to clean and that has rubber surface, look no further than Toyota Tacoma KAGU floor liners. These mats feature carbon fiber pattern and are easy to clean and wash, just like any rubber floor liners. If you are looking for that OE look for your truck's interior and really like the look of carpet floor mats, but would like to get better protection than the factory mats provide, think of Classic 3D floor liners. These floor liners also feature raides lips, just like KAGU floor liners, but have carpet layer on top. This combination allows keeping the spills, moisture and dirt inside and mats are carpet. So, this is an ultimate combination of excellent protection and factory look for your Toyota Tacoma interior.
Kagu Floor Liners for 2019 Toyota Tacoma
Toyota Tacoma 3D MAXpider liners: 5 Facts
3D MAXpider products are odourless, non-toxic and do not contain any chemicals that fall under Prop 65 Warning.
All floor liners by 3D MAXpider are molded and feature raised lips for ultimate protection of the floor area of your truck.
Toyota Tacoma floor liners by 3D MAXpider are easy to clean and install.
3D MAXpider floor liners for the Toyota Tacoma use factory retention devices to install, and additional velcro on the back side to prevent from sliding.
3D MAXpider floor liners are designed based on precise laser measurements, and are guaranteed to fit your Toyota Tacoma perfectly.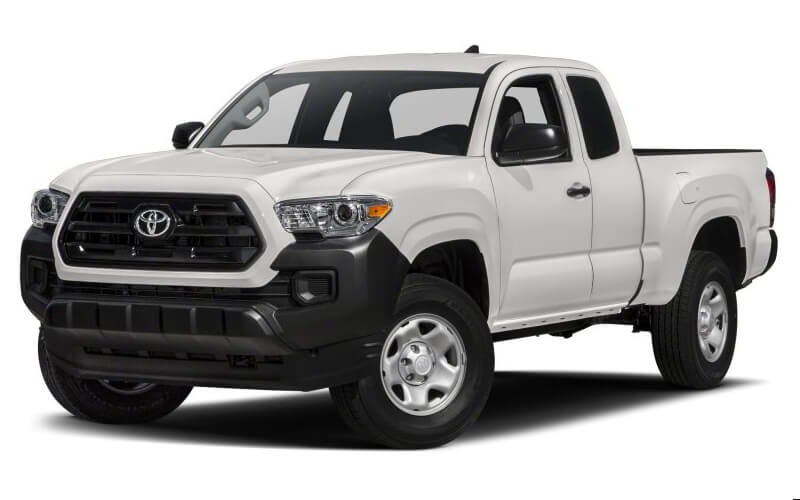 Toyota Tacoma: History, Awards, Interesting Facts
The first Toyota Tacoma was released in 1995, and it is a compact pickup truck.
For second generation, that was introduced in 2004, the Tacoma was enlarged, and since then represents mid-size pickup truck segment. The first model year for the 2nd-gen Tacoma is 2005.
In 2005, Motor Trend has nominated the Tacoma as the Truck of the Year.
In 2006, the Toyota Tacoma was altered both technically and visually. Many technical features that were optional for the '05 model became standard for the '06 Tacoma.
For the model year 2007, Toyota added 2 new interior color options to the Tacoma lineup. For 2008, the Tacoma did not get and significant changes, so it's fair to say, that 2007 and 2008 Tacos are pretty much the same.
As of 2009, the Tacoma no longer comes equipped with mechanical limited-slip differential. Toyota has completely revised this part of the truck and replaced it with open differential. Technically, it simulated mechanical LSD and employed individual braking for every wheel.
As of 2010, Toyota USA moved manufacturing of the Tacoma to a plant located in San Antonio, TX. So, as of 2011, the Tacoma was built alongside another popular pickup truck, the Tundra.
In 2012, Toyota refreshed the design of the Tacoma and added certain new cosmetical features to the truck body design. Restyling included refreshing headlights and grille, front bumper and adding shark-fin antenna to the truck.
Though, the newly added shark-fin antenna quickly became optional, and in 2013 Toyota added all-new touchscreen with audio system control to all Tacomas.
In 2014, the Tacoma was still available in the SE trim level.
As of 2015, the regular cab version of the Tacoma was discontinued.
The first model year for the third-gen Tacoma is 2016. For this generation, the Tacoma is visually similar to the 4Runner.
In 2017, Toyota sold 198,124 Tacomas. As of 2007, this is a new sales record of the truck.
3D MAXpider for Toyota Tacoma – Reviews
Floor Liners for Toyota Tacoma
Average rating:
2 reviews
Nov 10, 2019
I was looking for a set of floor liners for my 2019 tacoma trd off road double cab and i like the way these grip to the carpet. They fit my truck and look great.

also, as far as washing the Kagu liners, they just hose down like weathertech ones. Fast cleaning.
Sep 27, 2018
Quality product for the money. Love the way the mats attach to the factory floor carpet.