Floor Liners for Honda Odyssey
If you are looking for ultimate floor area protection for your Honda Odyssey and you do not want your floor mats to be too heavy-duty or commercial, you are welcome to consider 3D MAXpider floor liners. Precisely designed based on the laser measurements, these floor liners perfectly fit the floor area, and raised edges will not allow moisture, slush, melted snow or spilled drinks get and damage the factory flooring of your Honda Odyssey.
3D Maxpider floor liners look classy and are available in 3 colors: gray, black and tan to match the interior of your Honda. We understand, that too rugged-looking heavy-duty floor liners will not look right in the Honda Odyssey, that's why we offer 2 solutions that will look and perform right:
3D MAXpider Kagu floor mats for the Honda Odyssey
3D MAXpider Classic floor liners for the Honda Odyssey
If you are looking for the floor protection solution that is easy to clean and that has rubber surface, look no further than Honda Odyssey KAGU floor liners. These mats feature carbon fiber pattern and are easy to clean and wash, just like any rubber floor liners. If you are looking for that OE look for your vehicle's interior and really like the look of carpet floor mats, but would like to get better protection than the factory mats provide, think of Classic 3D floor liners. These floor liners also feature raides lips, just like KAGU floor liners, but have carpet layer on top. This combination allows keeping the spills, moisture and dirt inside and mats are carpet. So, this is an ultimate combination of excellent protection and factory look for your Honda Odyssey interior.
Honda Odyssey 3D MAXpider liners: 5 Facts
3D MAXpider products are odourless, non-toxic and do not contain any chemicals that fall under Prop 65 Warning.
All floor liners by 3D MAXpider are molded and feature raised lips for ultimate protection.
Honda Odyssey floor liners by 3D MAXpider are easy to clean and install.
3D MAXpider floor liners for the Honda Odyssey use factory retention devices to install, and additional velcro on the back side to prevent from sliding.
3D MAXpider floor liners are designed based on precise laser measurements, and are guaranteed to fit your Honda Odyssey perfectly.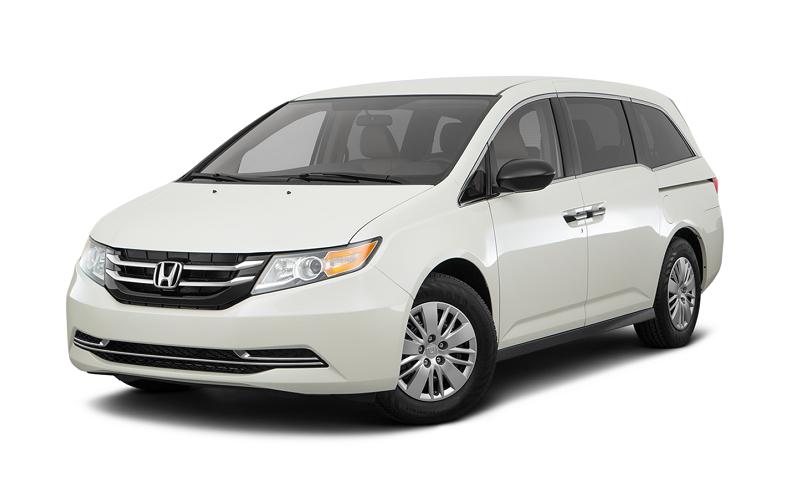 Honda Odyssey: History & Facts
1999 was the first model year for the second-gen Honda Odyssey. It was assembled in Canada and exported to the U.S.
Between 2000 and 2003, the Odyssey gained total of 4 stars out of 5 in the series of tests conducted by the National Highway Safety Administration (NHSA).
Between 1999 and 2003, the Honda Odyssey was nominated the Editors' Most Wanted minivan by Edmunds.com.
2002 was the first model year when the Honda Odyssey was available with a 5-speed automatic transmission.
The 2004 Honda Odyssey was the only model year, when the vehicle was rated with 5 stars out of 5 based on Automotive Information Systems (AIS).
In 2005, the Honda Odyssey became available in its third generation. The minivan became wider, yet the length remained the same.
As of 2006, the engine of the 3rd-gen Odyssey was rated at 244 hp, while right after the launch it was initially advertised as a 255-horsepower engine.
In 2007, 2008 and 2009 the Honda Odyssey was the best-selling minivan in the U.S. Also in these years it won its place in the list of the Top-5 vehicles by Car and Driver.
For 2010, Honda dropped the LX trim level for the Odyssey and replaced SE trim with EX.
In 2011, Honda Odyssey debuted in the fourth-generation.
In 2012, the Japanese carmaker introduced Elite Model trim level of the Odyssey.
As of 2013, all Honda Odyssey trim levels feature a rearview backup camera.
In 2014, the Honda Odyssey debuted with all-new safety structure upgrade in the front.
The 2015 Honda Odyssey became the first minivan in the history to win the IIHS Top Safety Pick award.
For the model years of 2016 and 2017, Honda Odyssey did not get any significant changes and did not differ from the previous model years.
In 2018, the Honda Odyssey debuted in the 5th generation, and its Touring and Elite trim levels feature 10-speed automatic transmission. This is the first mass-production vehicle in the Honda history that got 10-speed gearbox.
3D MAXpider for Honda Odyssey – Reviews
Floor Liners for Honda Odyssey
Average rating:
3 reviews
Aug 1, 2021
Great mats! Perfect fit and odorless.
Aug 8, 2020
Great floor liners for those, who have a large family. And if you have kids who spill milk and Cola all the way. J
Sep 27, 2018
I've got a kid and 2 dogs that quite often trvel with me in my Ody. I love the 3D MAX mats fit and how they protect my floor. I am satisfied with the price as well. The mats were easy to install and clean.