Floor Liners for Ford F-150
If you are looking for ultimate floor area protection for your Ford F-150 and you do not want your floor mats to be too heavy-duty or commercial, you are welcome to consider 3D MAXpider floor liners. Precisely designed based on the laser measurements, these floor liners perfectly fit the floor area, and raised edges will not allow moisture, slush, melted snow or spilled drinks get and damage the factory flooring of your Ford F-150.
3D Maxpider floor liners look classy and are available in 3 colors: gray, black and tan to match the interior of your Ford F-150. We understand, that there are so many floor liner options for your truck, that's why we offer 2 solutions that will look completely different from the liners offered by the competitors:
3D MAXpider Kagu floor mats for the Ford F-150
3D MAXpider Classic floor liners for the Ford F-150
If you are looking for the floor protection solution that is easy to clean and that has rubber surface, look no further than Ford F-150 KAGU floor liners. These mats feature carbon fiber pattern and are easy to clean and wash, just like any rubber floor liners. If you are looking for that OE look for your truck's interior and really like the look of carpet floor mats, but would like to get better protection than the factory mats provide, think of Classic 3D floor liners. These floor liners also feature raides lips, just like KAGU floor liners, but have carpet layer on top. This combination allows keeping the spills, moisture and dirt inside and mats are carpet. So, this is an ultimate combination of excellent protection and factory look for your Ford F-150 interior.
2018 Ford F-150: Fitment Chart
Ford F-150 3D MAXpider liners: 5 Facts
3D MAXpider products are odourless, non-toxic and do not contain any chemicals that fall under Prop 65 Warning.
All floor liners by 3D MAXpider are molded and feature raised lips for ultimate protection of the floor area of your truck.
Ford F-150 floor liners by 3D MAXpider are easy to clean and install.
3D MAXpider floor liners for the Ford F-150 use factory retention devices to install, and additional velcro on the back side to prevent from sliding.
3D MAXpider floor liners are designed based on precise laser measurements, and are guaranteed to fit your Ford F-150 perfectly.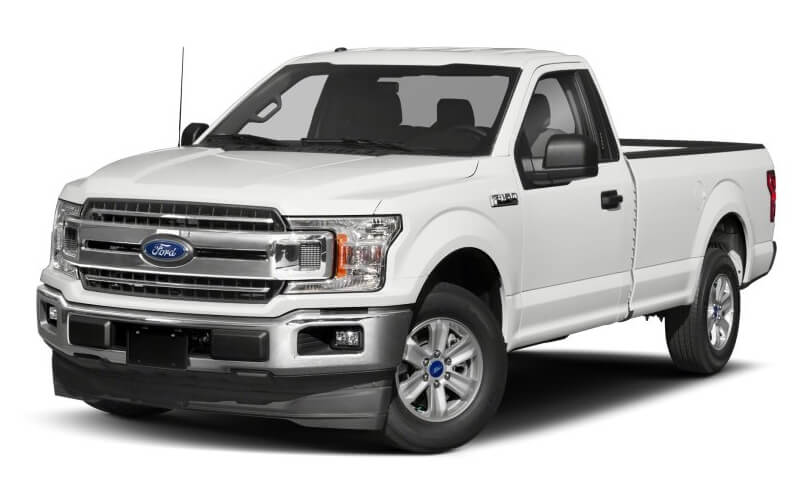 History of Ford F150: Facts, Dates, Recognitions
In 1997, Ford introduced the tenth generation of their F-series trucks. For this year and up, Ford decided to turn their F-150 into a vehicle for personal usage.
The F-150 SVT Lighting returned to the Ford dealerships in 1999. It hasn't been available for a while, and its return became a significant event in the American automotive life.
Before 2000, the 10th-gen Ford F-150 was not available in silver exterior color.
The 2001 Ford F-150 was the first truck in its segment that was available in 4-door body style. This was made for the convenience of both the driver and passengers.
In 2002, the Ford F-150 Lightning was tested by Car and Driver magazine, and it accelerated from 0 to 60 mph in just 5.2 seconds.
Ford manufactured 28.000 of SVT Lightnings between 1999 and 2003. The output of the new performance truck for these model years equaled to 360 hp.
In 2004, the Ford F-150 debuted in its eleventh generation and was built on an all-new platform.
Between 2005 and 2008, the Lincoln Mark RT was sold alongside with the F-150 and was a rebadged version of the Ford truck.
In 2005, Ford added flex-fuel system for 3-valve 5.4 L engine for the model year of 2006.
The 2-wheel drive Ford F-150 with the factory appearance package was introduced by Ford in 2007. The new trim level of the truck was marketed as the FX2 Sport package.
In 2008, National Highway Safety Administration awarded the F-150 with 5-star rating (out of the 5 stars possible). The same year, Insurance Institute of Highway Safety awarded this truck with 'Good' rating after a series of tests.
In 2009, the F-150 debuted in the 12th generation and was built on a new platform, that differed from the one that was previously used to build the truck.
In 2010, Ford introduced the off-road edition of the F-150 truck, that was marketed as the SVT Raptor.
As of 2011, Ford decided to introduce a fuel-effecient version of the F-150 truck by adding new 3.7 L naturally aspirated and turbocharged V6 engines, that was available along with the V8 one.
In 2012, iSeeCars noted, that the F-Series trucks (including the F-150 and F-250) were in the list of the most long-lasting vehicles in accordance with the research they conducted.
For 2013, Ford introduced F-150 with HID (xenon) headlights and new grilles that cosmetically differed from the predecessors.
In 2014, Ford introduced a refreshed version of the Ford F-150 in STX trim level.
In 2015, Ford unveiled the thirteenth generation of the F-150 trucks, which differed from the previous-gen version of the truck. For this year, Ford introduced all-aluminum construction, which means not only corrosion-resistance, but also less weight of the truck.
As of 2016, Ford reported, that 85% of the F-150 trucks are made in the USA.
In 2017, Ford mated the 10-speed automated transmission to a 3.5 L EcoBoost engine and introduced this new powertrain on the F-150 truck.
In 2018, the F-150 in Crew Cab gained the Top Pick Safety Award.
3D MAXpider for Ford F-150 – Reviews
Floor Liners for Ford F-150
Average rating:
2 reviews
Jan 16, 2019
I just bought a set of your mats for my F150. I love them
Sep 27, 2018
Descently priced molded liners for my Ford. I like everything except of the logo, I wish you had Ford logo on them....