Floor Liners for Chevy Silverado
If you are looking for ultimate floor area protection for your Chevy Silverado and you do not want your floor mats to be too heavy-duty or commercial, you are welcome to consider 3D MAXpider floor liners. Precisely designed based on the laser measurements, these floor liners perfectly fit the floor area, and raised edges will not allow moisture, slush, melted snow or spilled drinks get and damage the factory flooring of your Chevy Silverado.
3D Maxpider floor liners look classy and are available in 3 colors: gray, black and tan to match the interior of your Silverado. We understand, that there are so many floor liner options for your truck, that's why we offer 2 solutions that will look completely different from the liners offered by the competitors:
3D MAXpider Kagu floor mats for the Chevy Silverado
3D MAXpider Classic floor liners for the Chevy Silverado
If you are looking for the floor protection solution that is easy to clean and that has rubber surface, look no further than Chevy Silverado KAGU floor liners. These mats feature carbon fiber pattern and are easy to clean and wash, just like any rubber floor liners. If you are looking for that OE look for your truck's interior and really like the look of carpet floor mats, but would like to get better protection than the factory mats provide, think of Classic 3D floor liners. These floor liners also feature raides lips, just like KAGU floor liners, but have carpet layer on top. This combination allows keeping the spills, moisture and dirt inside and mats are carpet. So, this is an ultimate combination of excellent protection and factory look for your Chevy Silverado interior.
Kagu Floor Liners for 2015 Chevy Silverado: Fitment & Part Numbers
Chevy Silverado 3D MAXpider liners: 5 Facts
3D MAXpider products are odourless, non-toxic and do not contain any chemicals that fall under Prop 65 Warning.
All floor liners by 3D MAXpider are molded and feature raised lips for ultimate protection of the floor area of your truck.
Chevy Silverado floor liners by 3D MAXpider are easy to clean and install.
3D MAXpider floor liners for the Chevy Silverado use factory retention devices to install, and additional velcro on the back side to prevent from sliding.
3D MAXpider floor liners are designed based on precise laser measurements, and are guaranteed to fit your Chevy Silverado perfectly.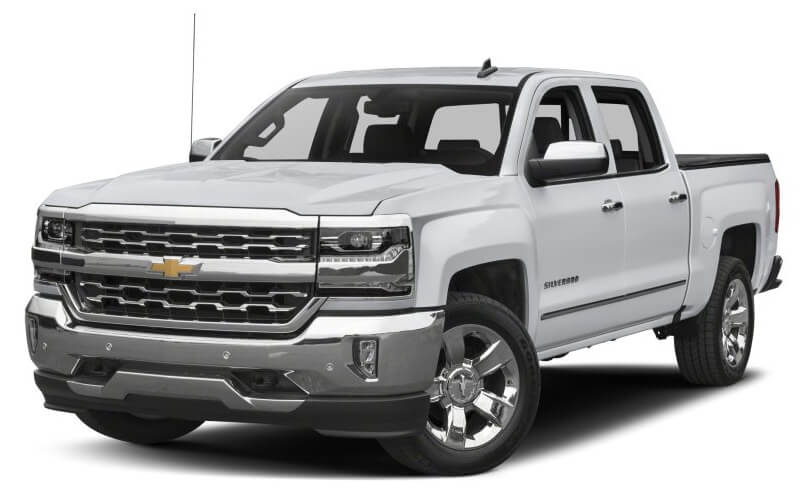 Chevy Silverado: History, Timeline & Interesting Facts
The Chevy Silverado was introduced by General motors in 1998, along with its technically identical GMC twin, the Sierra. Both full-size trucks were initially built on the GMT400 platform.
1999 was the first model year for the Chevy Silverado truck.
The Silverado 1500 and 2500 are non-heavy-duty trucks, which are normally used for daily drive, while the Silverado 3500 s a full-size heavy-duty truck.
In 2000, GM started manufacturing the heavy duty version of the Silverado on a new platform, the GMT800. The first model year for a newer Silverado was 2001.
In 2002, General Motors introduced refreshed version of the Silverado truck, that was marketed as the 2003 Chevrolet Silverado. Refreshments included certain design changes and upgraded audio system of the truck.
Crew Cab body style was added to the Chevy Silverado lineup in 2004.
In 2005, in order to cut manufacturing expenses, all light-duty Silverado trucks gained front disc brakes and featured drum brakes in the rear, while all heavy-duty Silverado trucks had disc brakes in all 4 wheels.
For 2007, Insurance Institute of Highway safety provided the 'Marginal' safety rating to the Silverado truck after a series of crash tests they conducted.
The Chevrolet Silverado debuted in its 2nd generation in 2008. The 2008 Silverado truck became the Truck of the Year by Motor Trend and the North American Truck of the Year in 2007.
In 2008 GM unveiled 2-mode hybrid version for the Silverado for the model year of 2009. After 2013, the hybrid version of the truck was discontinued due to poor sales.
In 2010, the Chevy Silverado gained certain cosmetic changes which were effective for the 2011 model year.
In 2012 Insurance Institute of Highway Safety rated the truck as 'Marginal' after a series of tests they conducted.
In 2014, the Chevy Silverado became available in the 3rd generation. For this generations, the trucks were no longer made on the GM900 platform, and the K2XX platform was used.
For the model year of the 2015, GM started sales of the the Silverado HD truck.
In 2016, the Silverado truck gained its mid-cycle restyling.
For 2017, General Motors added several new special editions of the Silverado truck, and the All Star and Texas edition were the most popular ones.
In 2018, the Colorado and Silverado trucks were available in the holiday editions to commemorate 100th anniversary of GM trucks on the US roads.
3D MAXpider for Chevy Silverado – Reviews
Floor Liners for Chevy Silverado
Average rating:
3 reviews
May 2, 2019
I love your product I have it in all my personal vehicles and would like to put it in my silverado
Apr 29, 2019
 I have your maxpider 3D mats in my Silverado and they are the best!  We bought a 2019 Subaru Forester a few months ago and I have been trying to find your mats for this vehicle. 
Sep 27, 2018
I like these mats in my truck. I bought them because I liked the price, and there was a discount on Amazon. Good value for the money, quick delivery, easy installation.... They do not slide under the pedals, unlike Walmart mats I previously had.